Quickly creates continuous spiral strands, ribbons or thin slices from vegetables.
The Spiral Cutter SPIRALFIX is the indespensable kitchen tool for every vegetable fan. Based on the time-tested principle of the pencil sharpener, it transforms countless sorts of vegetables into delicious vegetable spaghetti, without effort and in no time at all.

Imagine making long noodle-like strands out of most hard vegetables to make raw food pastas. This tool would be an excellent addition for everyone that wants to become healthier. This kitchen tool would be perfect for any vegan, vegetarian or raw food kitchen.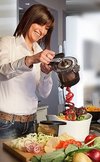 The SPIRALFIX Spiral Slicer is the must-have in hot and cold vegetable preparation for healthy culinary pleasures: It conjures up delicious vegetable spirals in no time at all, making carrots, zucchini, cucumbers, radishes, beet, kohlrabi and even potatoes eye-catchers on every plate, be it in the title role as a vegetarian dish, as a salad or a side dish to accompany other foods.

Using it is simple, convenient and extremely safe: Just open the folding lid, use the adjusting wheel to set the desired width of cut and place the vegetables into the container. Close the lid, turn the crank handle (pressing down gently), and the desired vegetable spirals fall into the non-slip holding container. The long spirals can be produced with ease because of two high-strength blades made of hardened stainless steel working together perfectly to slice the produce. The best part of it is that the two blades are able to cut the vegetables into spirals with very little waste.

The SpiralFix allows the user to get creative with vegetables because it offers 4 different cut styles that allows you to make different 4 different long, julienne style noodles.
Spaghetti Pasta - 3 mm wide
Fetuccine Pasta - 6 mm wide
Papardelle Pasta - 12mm wide
Ribbon Cut - max 55 mm wide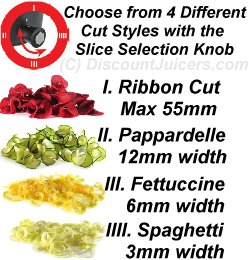 This tool is great for raw foodists and vegetarians alike.. Our favorite recipe to make with this unique kitchen tool is raw spaghetti pasta. Just process a zucchini (fat ones work best) through the machine, and watch long strands of zucchini pasta come out! Then blend up a simple pasta sauce in the blender (we use, fresh tomatoes, soaked sun dried tomatoes, garlic, red peppers) and pour it over the thin, long strands of zucchini and enjoy.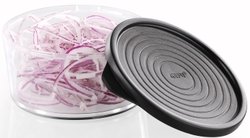 The spiralfix also includes a convenient lid that will let you store your leftover noodles if you don't eat them all!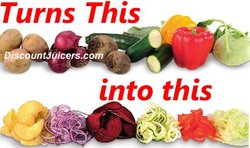 The SpiralFix makes eating your vegetables Fun!

The SpiralFix Spiral Slicer:
Turn almost any firm vegetable into fine spaghetti-like strands or incredibly thin, long ribbons
Make professional-looking garnishes, onion rings, potato nests, elegant salads, vegetable pizza toppings, and so much more.
Vegetables can also be turned into thin, uniform slices, julienne strips by adding cuts prior to slicing.
Recommended Vegetables:
Onion
Zucchini
Carrot
English Cucumber
Turnip
Parsnip
Potato
Sweet Potato
Daikon Radish
Butternut Squash
Look at the many uses:
Garnishes
Salads
Onion Rings
Coleslaw
Pickles
Soups
Potato Nests
Pizza Toppings
Spaghetti
and More!
Specifications:
11.5" deep x 6" wide x 10" High
Strand Cuts are 3mm, 6mm, 12mm or 55mm wide
All cuts are 2.5mm thick
Stainless Steel Blades
BPA-FREE Plastic Construction
Detatchable non-slip holding container
Breaks down for Compact Storage
Dishwasher Safe (top shelf)
Designed in Germany
5 Year Warranty
For Best Results when using the SpiralFix Spiral Slicer:
Apply constant pressure to the handle, while rotating. This will ensure the item being spiralized will come in contact with the blade.
Produce selection is paramount for the machine to work correctly. It is important to purchase FIRM (not soft) zucchini, and not "jumbo" ones that tend to have alot of seeds.
If purchasing Cucumbers, Firm English Cucumbers work best.
You want to purchase produce that is shaped like a log, straight (not curved)