The L'EQUIP™ Model 509 Visor is designed by people that juice for people that juice.
You'll love your new VISOR Natural Processor 509 by L'EQUIP® because...
Nutrition. The VISOR grinds your vegetables at a gentle 100 revolutions per minute (RPM). Nutrients deep inside the vegetable fibers are released by the VISOR's masticating action. Unlike other machines, the VISOR does not destroy nutrients by friction, heat, or oxidation. In some juicers, these three forces destroy fragile vitamins and enzymes before they get to your glass. But not in the VISOR!
Quiet. Some juicers make your kitchen sound like the inside of a machine shop! You're forced to shout just to carry on a conversation. But not with the VISOR by L'EQUIP. The VISOR's slow turning gear and motor make juicing a pleasurable and peaceful experience.
Quick Clean Up. Studies have shown that even some of the finest juicers stay in the cupboard most of the year. Why? Because clean-up is such a forbidding chore that users are loathe to start up their juicers. Not so with the VISOR. We at L'EQUIP have revolutionized the clean-up process making the VISOR the easiest and fastest clean-up of any juicer you can buy (and it's quick to assemble, too).
More Than Juice. L'EQUIP wants you to keep your juicer on the counter and keep using it. So, in between juicing, you can use your VISOR to make ice-cream or sorbet from frozen fruits, nut butters from your favorite nuts, sprouted bread from grinding sprouted grains, and different pastas or noodles from your own dough.
Quality Manufactured. Every L'EQUIP VISOR is made with FDA-approved, food grade, inert materials such as polycarbonate and melamine, including our world-patented "stone mill" type juicing gear (screw).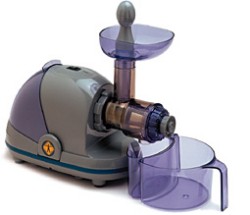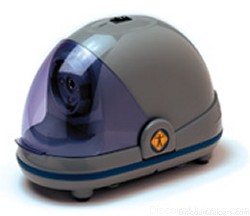 Features:
Parts of your VISOR Natural Processor 509 by L'EQUIP®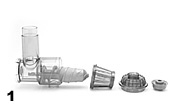 1. Juicer body, juicing screw, strainer, strainer cap, juicer end nozzle. All in order of assembly.


2. Five pasta and noodle end nozzles. Large and small flat noodles, Large and small round noodles, and Square hole noodles.
3. Blank strainer and juice strainer.



4. Nut butter nozzle for grinding nuts & seeds, Custard nozzle for frozen fruit ice creams, sprouted grains, tough vegetables, Juice nozzle for fruit, vegetable and wheatgrass juice.
5. Hopper and Pusher.


6. Motor Body of the VISOR Natural Processor #509 by L'EQUIP®.
7. Juicer catch bowl and pulp catch bowl.