How Loud is that Juicer in the Window?
by John Kohler

One of the common comments we hear is, "My old juicer sounds like an airplane taking off, do you have anything that is a bit less loud?". As juicers age, they tend to wear out, and may get louder as bearings begin to wear, and parts don't fit as tightly as when the appliance was new.

Until now, it was all up to our "opinions" on which juicers I thought were louder and more obnoxious.... I certainly don't have a "trained" ear to know if one juicer is louder than another... So I invested in a Decibel tester, which measures how loud sounds are to determine scientifically which juicers are the loudest and which are the softness.

What is a decibel? According to the Webster's Dictionary:
A decibel is a unit for expressing the relative intensity of sounds on a scale from zero for the average least perceptible sound to about 130 for the average pain level
Now this test strictly tests the decibels, which is basically measuring the loudness. I did not test the tone. Some juicers may have a more obnoxious tone, than others, but I feel this all comes down to ones personal preference. It's like this: Most people they believe they have a great singing voice, until someone will make a comment like, "Keep your day job".. It all comes down to opinion. I tend to favor the juicers that are more quiet than others... Its interesting that the more quiet juicers seem to also be my favored machines. I'm sure on some level, each manufacturer designs the machine to be as quiet as possible while still achieving the other design goals.
Years ago, I would juice when my roommates were sleeping in the house.. A good thing for me, I used the Green Star juicer, which was the quietest juicer of the ones tested. I'm sure if I used the Juice Fountain, I would have been sure to wake up the roommates, and I would probably be wearing the juice instead of drinking it!
Ok, now on with the test... Juicers were tested for a minimum decibel rating (12 inches away from the juicer), and a Maximum decibel rating (usually right at the entrance of the feed chute).
These tests were performed DRY RUN (except for the Vitamix 4500 Blender that snuck into the test for reference). No produce was put into the machines during testing. Once produce is introduced, it would change the results of the test. Since due to the design of the juicers, some juicers may become quieter since the produce may tend to absorb some of the sound. Some machines may become louder - Like when the juicer is shredding produce, with a centrifugal ejection style juicer.
The table is sorted by the LOWEST Maximum decibel rating.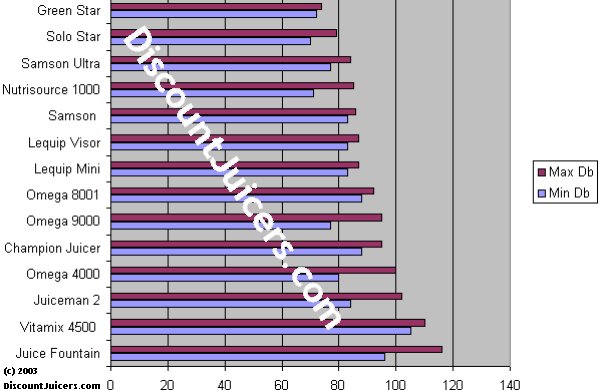 Last Minute Additions:
Healthy Juicer Electric: Min Db: 81 Max Db: 88
Of course, Juicer Loudness should be just ONE aspect that you are looking at when purchasing a juicer. The juicer should also be able to effectively juice the produce items you will be juicing most.
For example: I do not recommend centrifugal ejection juicers if someone wants to juice mostly leafy greens such as spinach, parsley, etc. The Centrifugal ejection units are much better for juicing carrots. You can read more about that here. If you wanted to juice leafy greens, I would recommend a twin gear juicer or a single auger juicer.
Of course, this is our tests in our test kitchen, and your results may vary, depending on age of the juicer, etc. Sorry we do not include ear muffs with any of our juicers!
Want to see how the juicers work? You can watch Video Demonstrations of many of the juicers we offer.
Be sure to read all the other articles we offer. We strive to educate visitors to our site by being the best at what we do. To my knowledge, no other site on the internet provides as much information on juicers as we do.